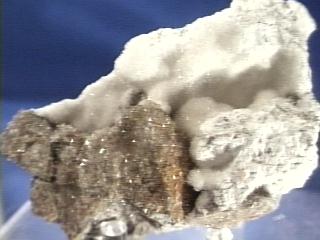 HYDROZINCITE
Specimen hyd-1
$ 90.00
Dims: 3-1/2" x 2-1/8" x 1-5/8"
Wt: 3.5 oz
Yellow Pine Mine, Goodsprings, Clark County, Nevada, U.S.A.
I have not seen any specimens of Hydrozincite before this one, so I cannot base my judgement of this specimen's quality on any previous knowledge. However, every book that I have looked into says that Hydrozincite crystals are rare, and that's what this specimen has a lot of! The crystals are very small, measuring 2 mm at most, and are basically colorless, taking on the white color of the massive Hydrozincite matrix. Simply put, the beds of this mineral are pure white, fuzzy-looking, and sparkly. They're really beautiful, and will make an uncommon addition to any collection.